Playlist
all tracks and on-air programmers are listed in reverse chronological order - times are approximate
skip to a specific time:
tracks may appear here before or after they are played on the air
The Concussions
Burger Crunch
Break up with the Concussions 2014 via Double Crown



Selwyn Birchwood
Queen Of Hearts
Don't Call No Ambulance 2014 via Alligator



The Hold Steady
Big Cig
Teeth Dreams 2014 via Razor & Tie



Asher Roth
Fast Life
RetroHash 2014 via Pale Fire



Danger Mouse and Sparklehorse
Little Girl
Dark Night of the Soul 2010 via Capitol Records



4:20 am
Herbie Hancock
Mojuba
Dis Is Da Drum 1994 via Island / Mercury



Seth Bernard
Bluetooth Pillow
Reconciliation & The Mystical Beyonda 2014 via Earth Work



North Mississippi Allstars
No Mo
Electric Blue Watermelon 2005 via Ato Records



The Beatles
Good Morning Good Morning
Sgt. Pepper's Lonely Hearts Club Band 1967 via EMI



The Beatles
Lovely Rita
Sgt. Pepper's Lonely Hearts Club Band 1967 via EMI



4:00 am
Krom
Savior Complex
Krom 2014 via Independent



The Deadstring Brothers
Lucille's Honkey Tonk
Cannery Row 2013 via Bloodshot Records



Turkuaz
T.V.
Future 86 2014 via Independent



The Derek Trucks Band
Elvin
Soul Serenade 2003 via Sony



3:40 am
Bob Marley
Roots, Rock, Reggae
Rebel Music 1986 via Polygram Records



BEAT FUNKTION
Nights Out With Billy
Voodooland 2014 via DO Records



FREEMAN
(For A While) I Couldn't Play My Guitar Like A Man
Freeman 2014



The Slambovian Circus Of Dreams
Rocket
A Box of Everything 2014 via Red River



3:20 am
Royal Southern Brotherhood
World Blues
Heartsoulblood 2014 via Ruf



See-I
Never Give Up
Knowledge Shine Bright 2014 via Fort Know



Led Zeppelin
In My Time Of Dying
Physical Graffiti 1975



3:00 am
ON AIR

Eric

Anything funky, greazy, groovy, or stanky. Also anything that's sweet, smooth, soars, or soothes. And everything else that twangs, buzzes, swings or moves. Bring your buzz. Or not.
Over the Rhine
When You Say Love
Ohio 2003 via Narada



Leticia Rodriguez Garza
Incertidumbre
Sagüita Al Bate 2014 via Independent



Greg Trooper
Dream Away the Blues
Make It Through This World 2005 via Sugarhill [Country]



Vance Kelly & His Backstreet Blues Band
Tell Me Why
Tell Me Why 2012 via Wolf



2:40 am
Barbara Morrison
Save Your Love For Me
I Love You, Yes I Do 2014 via Savant



Red Molly
Sing To Me
The Red Album 2014 via Independent



Mamani Keita & Marc Minelli
Abdoulayi Djodo
Electro Bamako 2001 via Palm Pictures (Audio



Meshell Ndegeocello
Choices
Comet, Come To Me 2014 via Naive



Hundred Waters
Broken Blue
The Moon Rang Like a Bell 2014 via OWSLA



2:20 am
Mark Muleman Massey
Blues Shoes
One Step Ahead of the Blues 2014 via Icehouse



Fred Hersch Trio
Arcata
Floating 2014 via Palmetto



Pal Shazar
Black Is White
The Morning After 2006 via Shiffaroe Records



Junior Kimbrough
Lonesome In My Home
First Recordings 2009 via Big Legal Mess Records



2:00 am
Folias
Cancion De Lejos
Viewpoints 2014 via Blue Griffin



Pure Grain
New Dawn
Indiana Sun 2014 via Independent



Damon Fowler
After the Rain
Devil Got His Way 2011 via Blind Pig



Morelenbaum / Sakamoto
Inutil Paisagem
Casa 2002 via Sony



1:40 am
Massive Attack
Butterfly Caught
100th Window 2003 via Virgin Records



Nathan K
Telephones
Methodist Girls 2014 via Independent



Rachel Ries
Never You Mind
Without a Bird 2007 via Independent



Pedrito Martinez
Gitana Te Quiero
Rumba de la Isla 2013 via Calle 54



1:20 am
Jem
On Top of the World
Down to Earth 2008 via ATO RECORDS / RED



Al Basile
Nibblin' Through the Fence
Woke up in Memphis 2014 via Sweetspot



Jimmy Parramore
La Terre a Disparu
Un Coup De Foudre Pour Francoise 2011 via Independent



Western Michigan University Jazz Orchest
Passing Giant
Travel Notes 2014 via BluJazz



1:00 am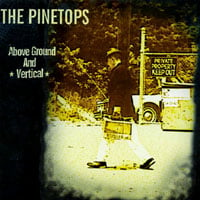 The Pinetops
Shotgun Baby
Above Ground And Vertical 1998 via Soundproof



Susheela Raman
Sharavana
Music for Crocodiles 2005 via Narada



Susheela Raman
Sharavana Intro
Music for Crocodiles 2005 via Narada



Magnolia Electric Co
Map of the Falling Sky
Josephine 2009 via Secretly Canadian



12:40 am
Eminor
Dust Out Of Sand
Dust Out Of Sand 2013 via Independent



Delbert McClinton
Cease and Desist
Never Been Rocked Enough 1992 via Curb Records



James Farm: Joshua Redman, Aaron Parks, Matt Penman, Eric Harland
Chronos
James Farm 2011 via Warner Japan/Zoom



Chris & Meredith Thompson
Neruda
Clearwater 2002 via Alkali Records



12:20 am
COMPILATIONS
Good Conquers Evil (Album Version
Love & Justice 2014 via Power Mix



The Dead Kenny G.'s
Death Panel
Bewildered Herd 2010 via n/a



Beau Jocque
Pick Up On This
Pick Up On This! 1994 via Rounder / Pgd



North Mississippi Allstars
Snake Drive
Hill Country Revue- Live at Bonnaroo 2004 via Ato Records



12:00 am